Complex signal processing may incorporate software using: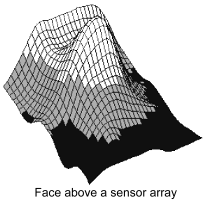 Finite Element or difference software
Fourier Analysis
Custom analytic software
in order to develop a unique solution. For example if a matrix of capacitive sensors collects the data shown at right can we reconstruct the shape of the face that generated this data.
Or in the example below, of data generated by a metal cylinder suspended 4cm above a large capacitive array, can we reconstruct the shape of the cylinder with just as much accuracy on the remote side as we can achieve on the immediate facing side of the cylinder.